Why Valet Storage is the Future...
... and Storage Units are the Past.
One of the common selling points of using a Storage Unit, instead of a service like Storagetree's valet storage services, is that you handle your own inventory. On the other hand, with Valet Storage Services like Storagetree you enjoy greater convenience and free online inventory management for a hassle free experience.
But the advantage of valet storage goes much deeper than that.
On 23rd June, 2016, one of the great dangers of using a storage unit materialized; when you have a tight storage cluster packed for maximum floor space usage, that's a recipe for a fire. Match that with closed off partitions where a fire-fighting system will not be effective, and lack of enforcement of types of items that can be stored, and you have a recipe for disaster.
It seems nice to have an exclusive storeroom away from home, but how safe are your items? (Pic Credit: Scott Meyers)
The damage done by the fire that Thursday night was largely magnified not only by the tight layout, which hampered firefighting work and made it easier for the fire to spread, but also the fact that nobody knew what was inside the cubicles at all. This resulted in the firefighting effort eventually being slammed as foolhardy, and experts said it should have been called off entirely for the safety of the firemen.
"They had no idea what was burning inside. It could have been chemicals and oils from objects such as compact discs and perfumes, burning items that would have caused sudden increases in temperature."
Professor Cheung Kwok-pun, a fire safety expert from the University of Hong Kong's architecture department
How does storing with a Valet Storage provider like Storagetree circumvent these issues?
1. Your items will be stored in a certified warehouse with fire protection systems.
Valet Storage service provider Storagetree stores the Storagetree boxes on pallets which in turn are placed on racks in a proper warehouse setting. It maximizes the number of boxes that could be stored in the same floor area, while the open concept allows fire protection systems such as sprinklers to actually work the way they need to.
2. Items are stored in durable plastic boxes
Instead of flammable carton boxes that can be easily destroyed by pests or mould, Storagetree uses plastic containers which are sealed for security. This also means that even if a box were to contain liquid in a container that leaks, other boxes will not be affected, thus containing any fire or chemical risk. (Take note: Liquids are in our list of prohibited items!)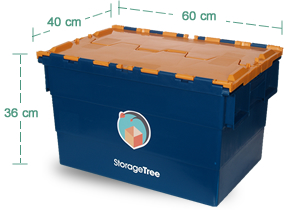 3. Your inventory will be managed by professionals
The minds behind Storagetree have been handling commercial goods for a long time. Over a decade, to be precise! Furniture, electronics, refrigerators, cosmetics down to plastic packaging, we've been sorting, organizing and optimizing inventory, and that experience can now be applied to your items as well. You won't have to figure out how to best stack that pile and risk damaging something in the process.
4. Benefit from the Warehouse's security system
Unless it's a bank vault, nobody is going to have CCTV installed for their storage units. Between the time you lock that door and the next time you're back, nobody has any record of any activities happening in that storage unit. Not that there should, but that's the point here. Full-fledged warehouses like Storagetree's are fully racked, access card controlled and have state of the art security systems including CCTVs in place. If a carton goes missing, we'd know.
4. Door-to-Door Service
With Self-storage units, you'll have to transport your items yourself to and from the space and organize it. In other words, you're customer, storeman, deliveryman rolled into one. Using a valet storage provider like Storagetree, is as simple as making the booking and packing your things into the boxes that are brought to you. The boxes will be collected and put away, until you call for them again!
5. Visual Inventory Management System
Don't worry about your stuff being out of sight, out of mind. We've got an internet based system that allows you to recall boxes by the photos you've taken and uploaded. This way, even though you're sitting comfortably at home far from the warehouse, you can check exactly what you've stored in our sealed boxes, and can call for exactly what you need.
Ready to store you items conveniently, securely, safely and hassle-free? Give us a call at 6461 0218 now!